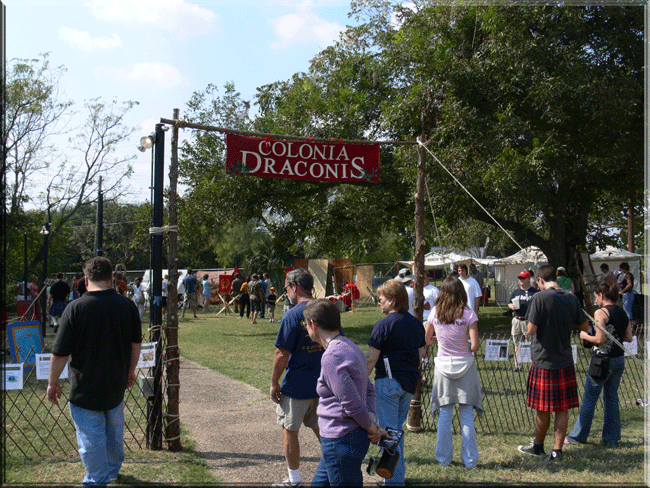 The Romano-Brittish Town: "Colonia Draconis"
The signs on the fence give information about ancient Roman and Celt cultures
organized into the "Top Ten Myths" about each culture.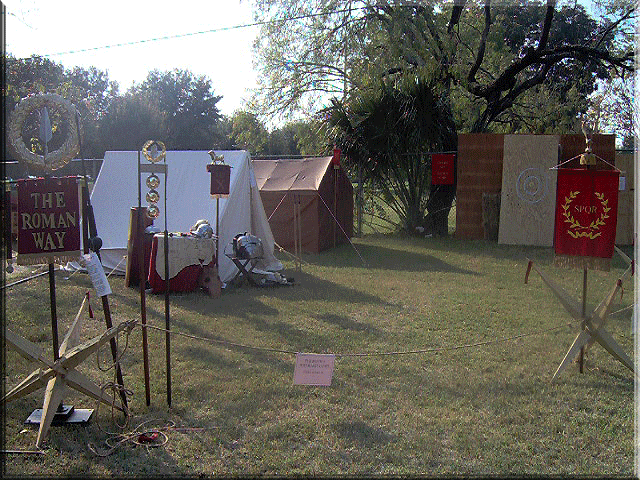 The Roman Legionary Camp and Pilum-Throwing Range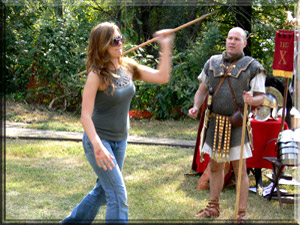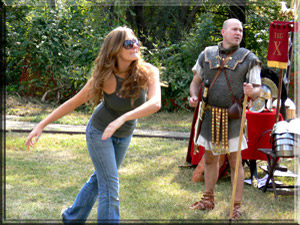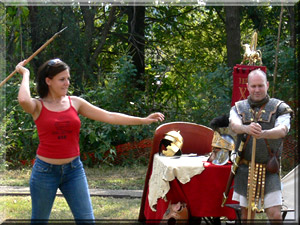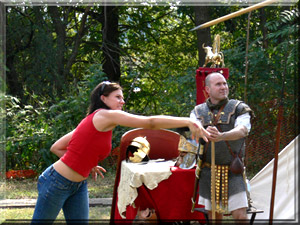 Rome's finest citizens turn out to train as auxiliaries.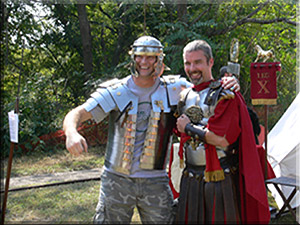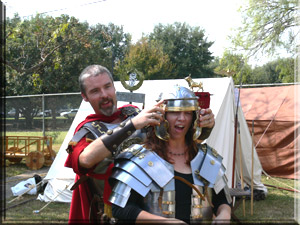 Not all train in throwing, though many try on the Legionnaire's uniform.
The Big Battle:
Wherein Rome Struggles to Keep the Peace in the Provinces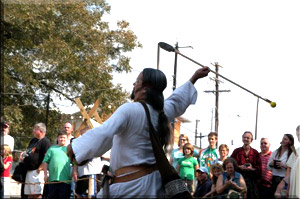 Two drunk barbarians decide to prove their virtue in a javelin throwing contest. . .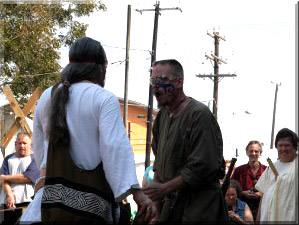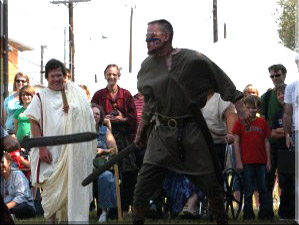 . . . a dispute over the outcome turns to harsh language, and a sword is drawn. . .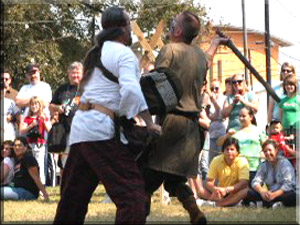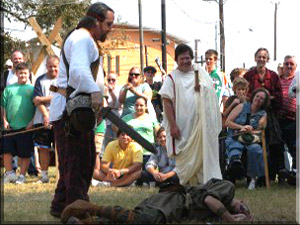 . . . things go poorly for the younger Celt. Very poorly. He is slain . . .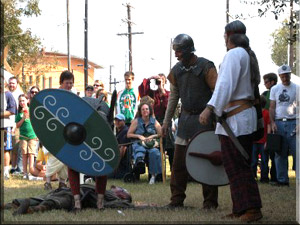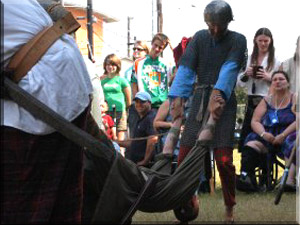 . . . when his clansmen arrive to find his body, they are shocked and insulted. . .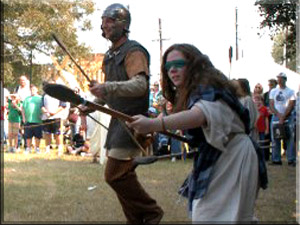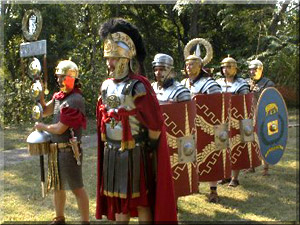 . . . it is war between the Clans! Fortunately, a local Roman patrol hears of the unrest. . .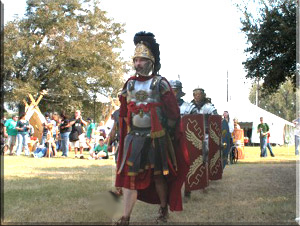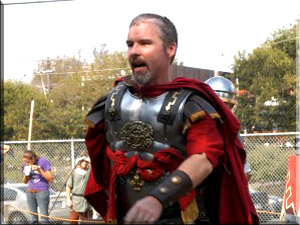 . . . the patrol moves in, separating the brawling barbarians. The Tribune addresses the crowd. . .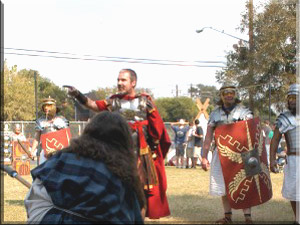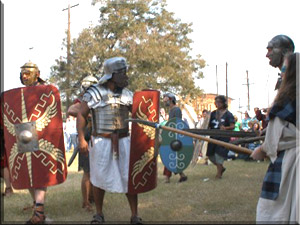 . . . he reminds the clans that their differences are meaningless.
They are all Rome's property now.
This does not go over well . . .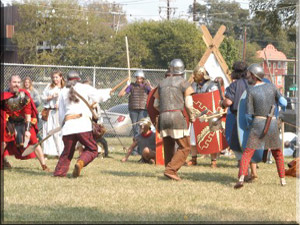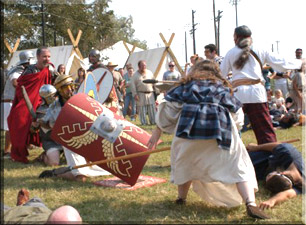 . . . in a flash, the clans are united against the Romans and full-scale battle breaks out . . .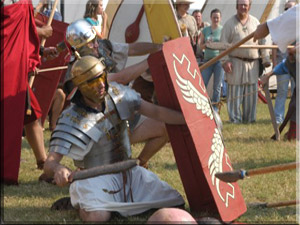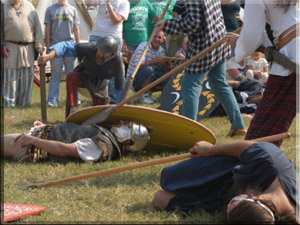 . . . though their bravery would honor any Roman, the Legionnaires are hopelessly outnumbered. . .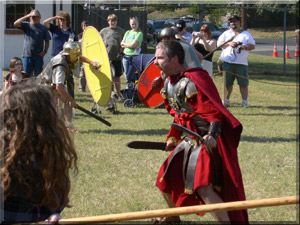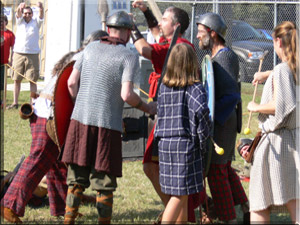 . . . fighting to the last, the Tribune cries defiantly, but is rushed and stabbed in the back. . .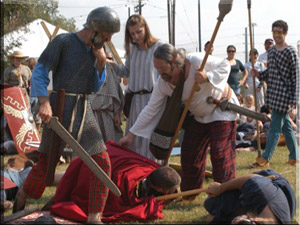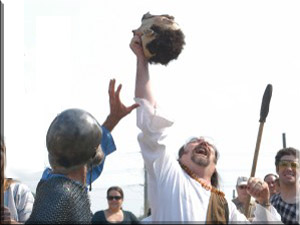 . . . not satisfied with just victory, the barbarians use the Tribune's own sword to take a grisly prize.

The crowd eats it up!
The composite photo (bottom right) shows one of the
many people doubled over laughing at the end of the show.
MOST OF THE GANG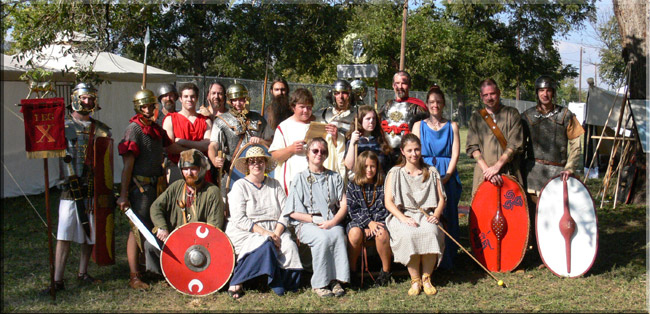 Pictured: Vexillations from Legio X Fretensis and Legio VI Ferrata Fidelas
as well as the Texas Coritani.
(Not pictured: Legio VIII Augusta--but very appreciated!)